Do you have a Mirakl Marketplace?
Boost

your marketplace

sales

by making your

vendor files

more reliable with AI

Classification errors, missing or wrong attributes, incomplete variants/facets... If you too have to manually reprocess your sellers' records, our new Mirakl x Unifai connector should please you!
The biggest players in the retail industry are already making
millions of product data

reliable with Unifai
Do you have to manually reprocess your salespeople's records?
Because the catalogs are transmitted by more and more sellers, you have difficulties to control the volume and especially the quality of the product data.
Poor customer experience
Your sellers do not correctly map their product categories. These do not appear in the right places on the site.
Decline in sales
Incorrectly categorized or incomplete products (missing attributes) do not appear in filters and searches.
Competitive pressure
If your product sheets are incomplete, your customers will go to your competitor in two clicks
Entrust the management of your product data to AI
Automating with Unifai allows you to relieve your teams and obtain complete, reliable and well-categorized product sheets in record time.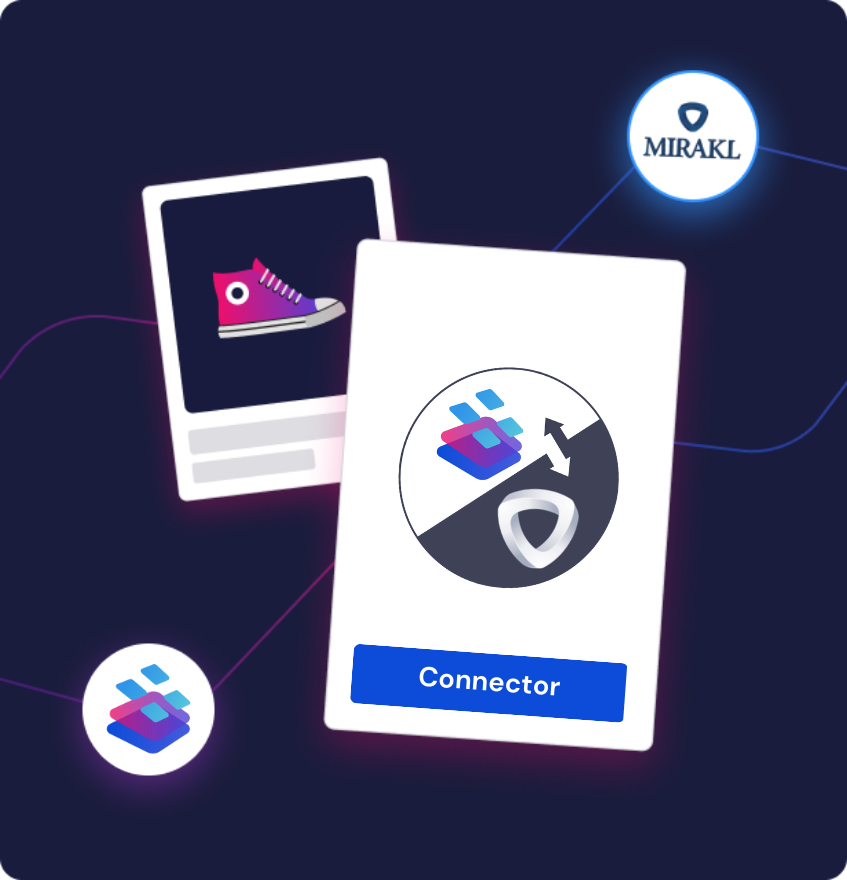 Connection and configuration

in a few clicks
Simplified connection thanks to the Mirakl x Unifai connector to feed your marketplace's plugs. 
Connect in a few clicks via the Mirakl x Unifai connector;
Resumption of the marketplace configurations (classification, attributes...).
Automatically update your Mirakl marketplace
Improve your conversions with
complete product sheets
Gain productivity by automating the tedious work of enriching your salespeople's product sheets.
Automatically classify your products in your categories and product families thanks to AI;
Automatically enrich the mandatory attributes of your products with AI;
Improve SEO and search results with clean and complete records.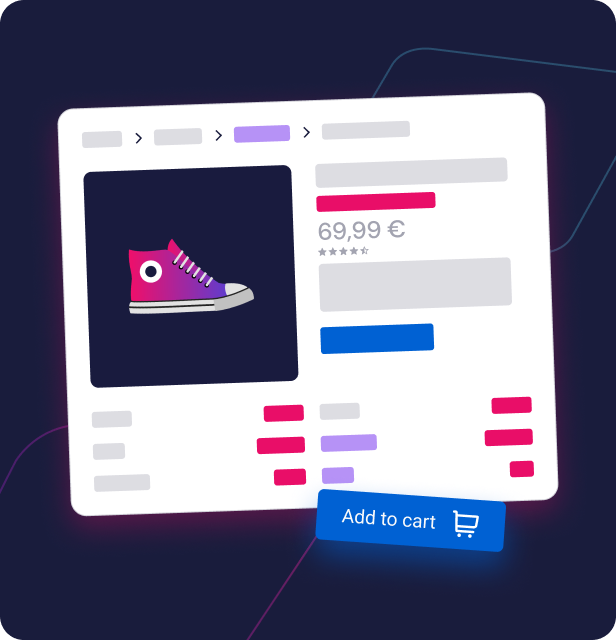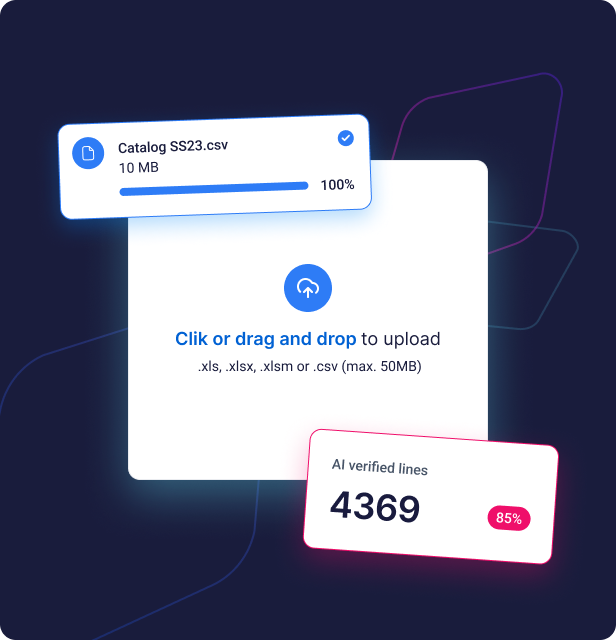 Manage thousands of offers
in minutes
Forget about spending hours linking the catalogs provided by your vendors to your bill of materials.
For vendors not equipped with an aggregator: open a portal where you delegate the formatting;
Correct data from feed aggregators.
Our AI takes care of creating the correspondences between the values of the provided catalogs and the taxonomy of your Marketplace;
Your product sheets are directly created or updated in your Marketplace.
Quickly publish

product sheets that convert
Go faster than your competitors! Reduce your time-to-market by automating the creation and reliability of your product sheets directly in your Marketplace.
Easy connection through Mirakl connector or API;
Receive in your Marketplace or Catalog Manager your cleaned product sheets;
Publish only clean and complete records.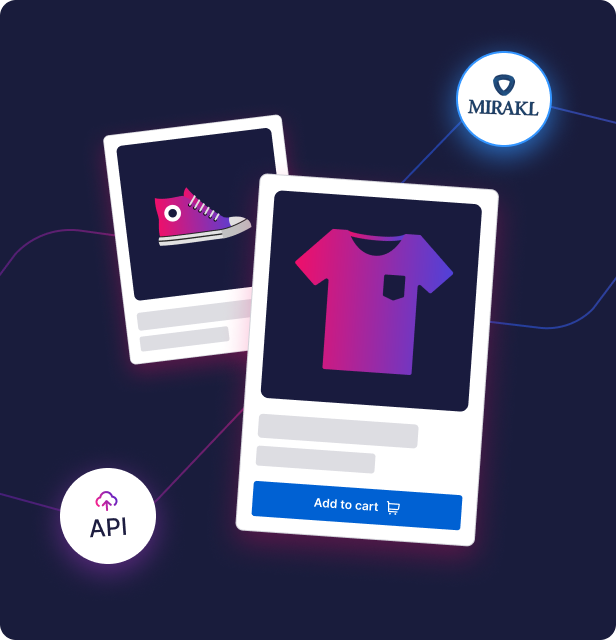 Our clients' results in figures
100k
Number of products processed per month by Intersport
÷2
Alltricks has cut its catalog processing time in half
÷7
58 Facets has divided its time-to-market by 7
Automate the reliability of your product sheets
Request a personalized demo and let our team show you how Unifai can accelerate your product data management.
Connect Unifai to your Mirakl Marketplace
With the Mirakl x Unifai connector, sync your product data to your Mirakl Marketplace.
Centralize the reception of sales catalogs
Create portals for each of your vendors or connect your feed aggregators. Delegate all or part of the cleaning in the portals.
Make your vendor files
more reliable thanks to AI
Automatically categorize products in your BOM; automatically enrich them with your attributes. Unify data and avoid errors with AI.

Implementation of a "Unifai vendor store".
The purpose of this store is to have a higher confidence score than your suppliers' stores to feed the master sheet. This will make your product data more reliable by avoiding that a supplier overwrites a correct data.
They use Unifai to improve their product data
"Unifai's artificial intelligence engine categorized new products with the same accuracy as our teams while reducing our catalog processing time by 50%. »
Olivier Robert
Head of Organization & Reference Systems
"Unifai has revolutionized our internal process by dividing our time-to-market by 2. Our partners use the Unifai platform directly to import their catalogs. AI normalizes, standardizes and classifies products automatically."
Aude Guillome
Account Manager
"With Unifai, the promise to the merchant is that their jewelry will be online in two days versus two weeks previously."
Eric Thevenet
Co-founder & COO
"The time saving is in the categorization and enrichment of attributes. Unifai is able, thanks to the imported information, to bring out the attributes and attribute values."
Vincent Tresca
Catalog Manager
"Since Unifai, I can now focus on more value-added tasks aimed at making the site as qualitative as possible: like improving existing categories, adding filters or reworking product sheets to optimize SEO."
Léa Pounot
Database Manager
Everything you need to automate your vendor data processing
Adjust accuracy and automation
Depending on your product data, you can adjust the accuracy (up to 98%) and automation (up to 100%) thresholds, which will increase as the solution is used.
Process a large amount of data
Easily import standard catalogs on our interfaces or open API access to receive catalogs of hundreds of thousands of rows and hundreds of columns wide.
Centralize your supplier data
Create portals for each of your vendors and connect your feed aggregators. Delegate all or part of the cleaning in the portals.
Getting started in less than 1 hour
The Unifai application is easy to use and no technical development is required.
Integrations with your marketplace
Thanks to the Unifai API, synchronize your product data with your entire e-commerce stack (PIM, ERP, Marketplace...). Unifai also has a Mirakl connector
Customer support and retail experts
You will benefit from our experience on a dozen projects PIM and marketplace to our credit and will be accompanied by a dedicated CSM and Data Scientist.
Frequently asked questions
My vendors' catalogs are numerous and very heterogeneous, can Unifai process this data?
Unifai can receive and process catalogs of hundreds of thousands of rows and hundreds of columns wide. Unifai can read files with one or more tabs and handles the following formats: xlsx, xlsm, xls, csv.
Is it possible to homogenize the data of my vendors?
Thanks to Unifai and its value mapping and normalization modules, it is possible to homogenize the data of your sellers. You can unify information such as colors or the place of manufacture (made in France - made in France - France...).
How much does the solution cost?
The cost of a Unifai subscription depends on several variables: the volume of the product repository, the number of attributes, the modules used and the monthly volume. Each project is unique and Unifai adapts to your needs.
I have a Mirakl marketplace, how does Unifai connect?
Unifai has a Mirakl connector that automatically synchronizes with your Mirakl marketplace taxonomy. Once activated, the vendor catalogs to be reprocessed are automatically pushed to Unifai. Vendor data will then be automatically processed and returned to your marketplace.
Ready to boost your Marketplace sales?
Request a personalized demo and let our team show you how Unifai can make your product data management easier.