The biggest players in the retail industry are already making
millions of product data

reliable with Unifai
Do you feed your PIM manually?
Because catalogs are transmitted by more and more suppliers, you have difficulty controlling the volume and quality of the product data.
You have to process a large number of often incomplete records
Your suppliers each have their own BOM and your teams must transform and complete them to match yours.
Manual processing is time consuming and leads to errors
80% of the time spent by data professionals is spent cleaning data. The work of making product files reliable is time-consuming and tedious.
Misclassification directly impacts the sale of your products
80% of French people have already abandoned their purchase and 50% of product returns are due to incorrect or incomplete product sheets.
Entrust the reliability of your product data to AI
Automating with Unifai allows you to relieve your teams and to obtain complete, reliable and well-categorized product sheets in record time directly in your PIM Akeneo.
Connection and configuration

in a few clicks via the Akeneo App Store
Simplified connection thanks to the Akeneo AppStore to automatically feed your PIM with clean and enriched data.
Connection in a few clicks via the Akeneo AppStore
Resumption of the configurations of PIM (classification, attributes...)
Automatic update of PIM Akeneo
Improve your conversions

with complete product sheets
Increase productivity by automating the tedious task of enriching product data
Automatically classify your products in your categories and product families thanks to AI;
Automatically enrich the mandatory attributes of your products with AI;
Improve SEO and search results with clean and complete records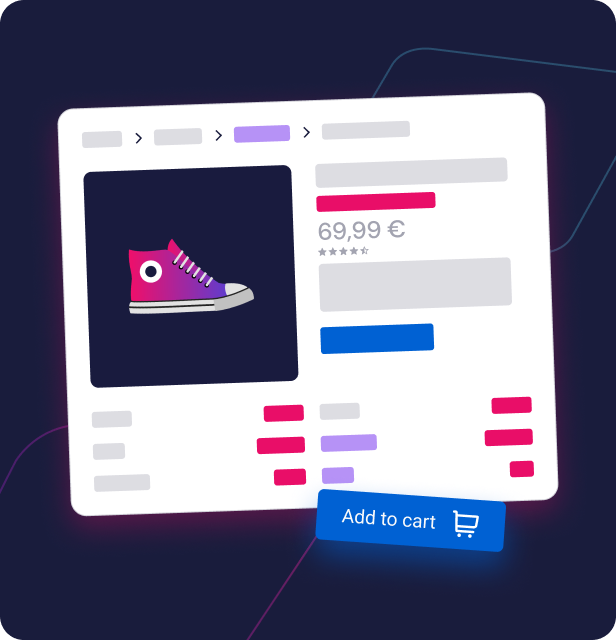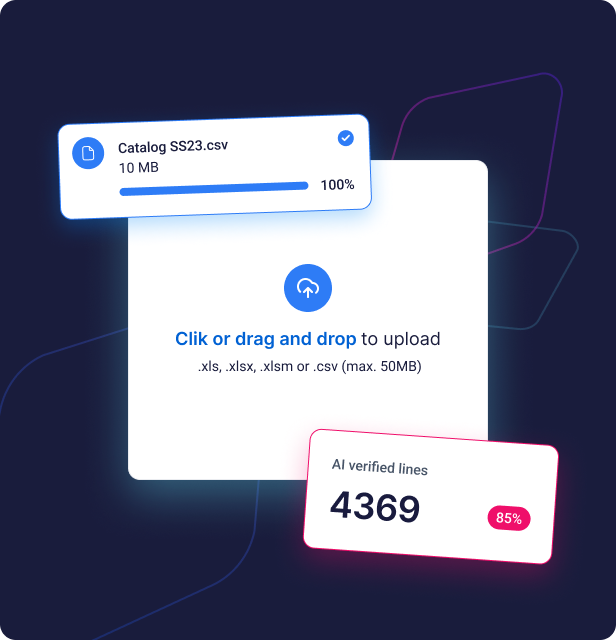 Manage thousands of offers

in minutes
Forget about spending hours linking the catalogs provided by your suppliers to your model.
Let your suppliers import their files directly into their space and delegate the formatting to them;
Our AI takes care of creating the correspondences between the values of the provided catalogs and the taxonomy of your PIM ;
Your product files are directly created or updated in your PIM .
Quickly publish

product sheets that convert
Reduce your time-to-market by automating the creation and reliability of your product sheets directly in your PIM .
Simplified connections with your PIM Akeneo;
Push the cleaned product sheets directly into your PIM Akeneo;
Easily update your prices in your ERP or your back office.
Our clients' results in figures
18H
Time saved per week for each repository manager
98%
Accuracy rate on AI suggestions audited by Rexel
÷7
58 Facets has divided its time-to-market by 7
Automate the reliability of your product sheets
Request a personalized demo and let our team show you how Unifai can accelerate your product data management.
Connect Unifai to your PIM
Connect directly from our application via the Akeneo app store.
Centralize the reception of your supplier files
Create portals for each of your suppliers where they can deposit their catalogs and collaborate on cleaning them up for publication. Delegate all or part of this phase.
Automate the reliability of your product sheets with AI
Automatically categorize your products in your BOM; automatically enrich them with your attributes. Unify your data and avoid errors thanks to AI.
Feed your PIM with clean and enriched records
Your cleaned product sheets are directly pushed into your PIM
They accelerate the launch of their products with Unifai
"Unifai's artificial intelligence engine categorized new products with the same accuracy as our teams while reducing our catalog processing time by 50%. »
Olivier Robert
Head of Organization & Reference Systems
"The artificial intelligence solution is a real opportunity, we couldn't manually categorize our product data especially since we have a 3,000,000 item base."
Dimitri Both
Executive Director
"We tested Unifai with already corrected values to measure the deviation and got 98% alignment. On the remaining 2%, even the human eye has trouble finding a solution."
Franck Duvigneau
Project Manager Data Expertise
"Before, it took a repository manager a week to process a catalog of 8,000 products. With Unifai, we only spend 2 or 3 days to process the same volume, and some catalogs are categorized in 1 hour!"
Audrey Gomes
Head of Supplier Catalogue Integration
"Unifai's knowledge of the vocabulary in which we operate is essential for us. The general algorithms without business knowledge, which were previously proposed to us, could not work for this reason."
Patrice Gouineau
Director of Data Products
"Unifai allows us to automate the categorization of new references and thus accelerates their publication both in stores and on the e-commerce site."
Frequently asked questions
How to test the solution?
Contact us to test the solution with your own data.
How much does the solution cost?
The cost of a Unifai subscription depends on several variables: the volume of the product repository, the number of attributes, the modules used and the monthly volume. Each project is unique and Unifai adapts to your needs.
How do I connect from my PIM ?
There are several ways to connect Unifai to a PIM. If you have a PIM Akeneo, you can directly connect via the Unifai application on the Akeneo app store. For users of other PIM, including Quable, an integration is developed to connect.
Ready to accelerate the reliability of your product data?

Request a personalized demo and let our team show you how Unifai can make your product data management easier.